Hi
I'm happy to announce the release of a new Portbellabz card for Music Easel and 208 under EMS Cornwall license.
This card expands the Music Easel or 208 with original EMS Synthi A and VCS3 circuits : an oscillator that produces simultaneous square and triangle waveshapes with wide range and features useful modifications (synchronization, shape CV, hi/lo range) and a noise generator with variable colour, together with my acclaimed Random Voltage Generator modification module that expands many original EMS Synthi A, AKS and VCS3, unlike the 208's one, it's true random.
The inputs and outputs voltages are adapted to match the ones used in the 208.
http://www.portabellabz.be/vcs3.html
It is available pre-built (€460 + shipping) or as a DIY PCB set (€130 shipped) like the 208 ToolBox.
The prices include a commission for Robin Wood at EMS, that is the same for each pre-built unit or PCB set sold.
It works as is with 208p, 208r and BEMI / Buchla USA Easels. The tracking can be set to 1V/oct, 1.2V/oct or 2V/oct (or other, but who wants that ?
).
It also works with a 208r rev1 if its useless card connector is rewired.
The great Todd Barton did video demos, thanks Todd !
Oscillator
- 100% analogue discrete components
- square and triangle outputs, blue bananas are full range outputs for modulation, red knobs are outputs to the mixer
- wide range from very slow LFO to ultrasonic, switchable hi/lo range with fine tuning
- tracking good on about 5 octaves via the 208's keyboard CV in
- variable frequency CV input with attenuverter via black banana
- variable shape CV input with attenuator via black banana
- variable sync input with attenuator via black banana
Noise
- 100% analogue discrete components
- white banana is full range output for modulation
- red knob is output to the mixer
- variable colour
Mixer
- tinijax out to feed the 208's preamp
- banana out for mixed modulation
Random voltage generator
- available on the white banana - a mini slide switch behind the panel selects noise or random, this affects the white banana only, the noise is still available in the mixer when random is used
- clock input via the 208's inverter "to card" socket
- noise colour changes the random voltage
Bill Sequeira kindly did this nice overview. Thank you Bill.
The pictured card is a prototype, the production one will look very similar.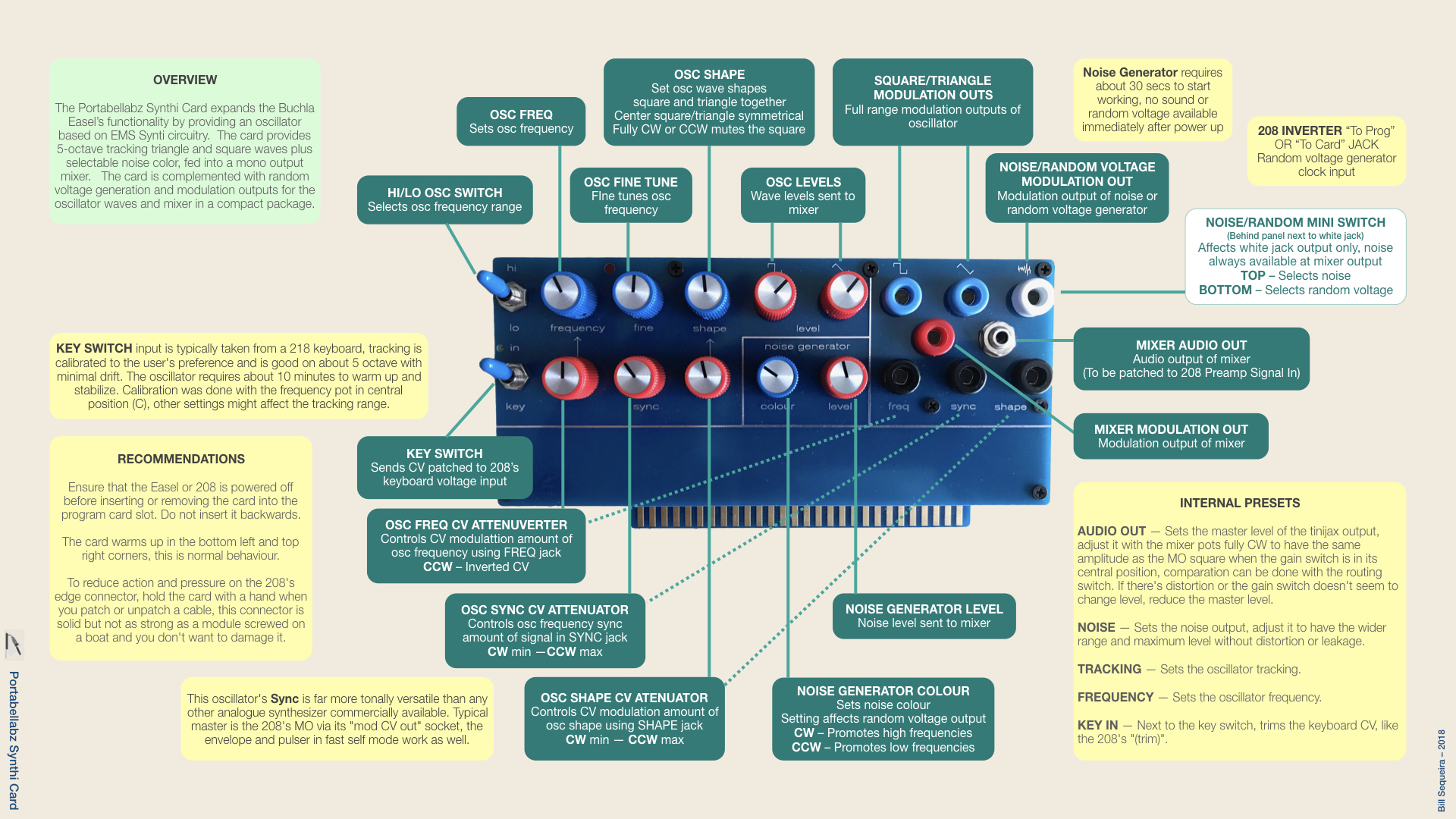 Thanks