#1
#2
#3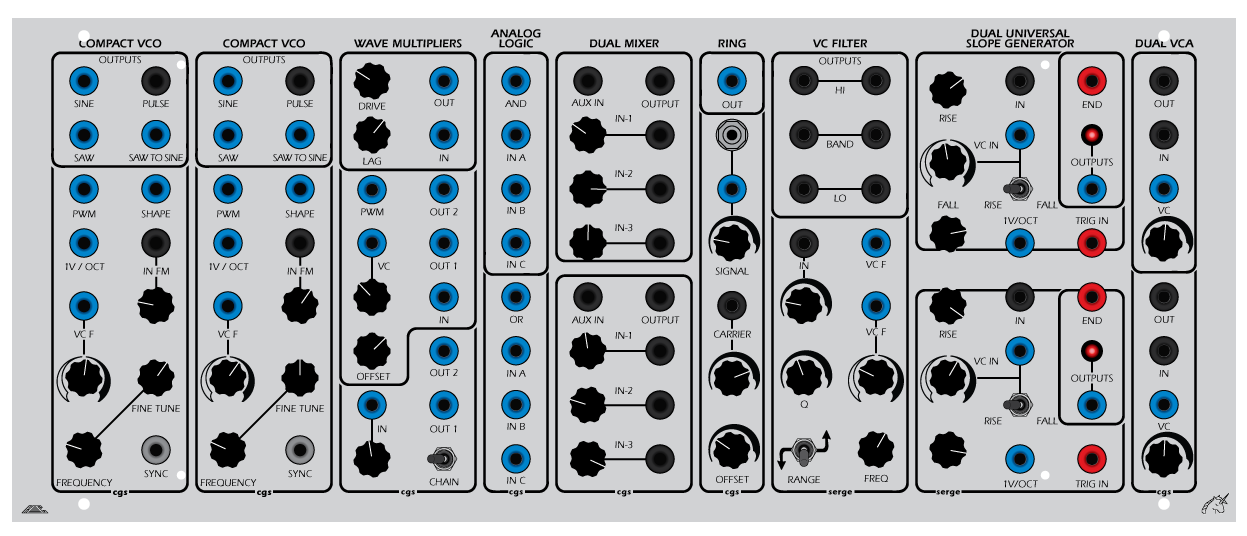 The Bog - The voice panel. (BOG = Bringer of Groove)
The Marsh - The bizarre panel. (MARSH = Mutilated Active Research System Hold)
[/quote]
bananeurysm wrote:Here is my attempt at a groupdiy/prodigy inspired META regarding the building of serge format modular synthesizers.

Panels.

Currently Zthee has been designing beautiful panels for CGS circuits, and Mono-Poly has been manufacturing them in the form of group buys.

This is a mid-thread link from the current panel buying thread with a graphic of all of the designs that have been run or likely will be run all together

viewtopic.php?t=17005&postdays=0&postor ... &start=280

Original thread (started it all)

viewtopic.php?t=4128&highlight=serge+layout

Panel #2 (programmer/sequencer) thread:

viewtopic.php?t=10525&highlight=serge+layout

2nd panel rerun thread:

viewtopic.php?t=21277

If you are designing and/or drilling your own - zthee's post in the following thread contains some basic hole-size guidelines:

viewtopic.php?t=11908&start=40

There is a thread that was setup for collecting bits and piece of serge artwork elements for panel design - I can't find it at the moment but will update this post later.

Chassis.

You can build your own or buy an STS boat - but many of us have purchased the readily available alumnimum BUD box mentioned in this thread:

viewtopic.php?t=5936 PCBs.

If you're even looking at this thread it's probably safe to assume you know about Ken Stone's excellent diy pcb offerings. Most of these projects use ALL CGS pcbs. For purchasing, pcb documentation, etc:

http://www.cgs.synth.net/

If you don't want to source parts yourself, bridechamber sells kits for a lot of CGS pcbs:

www.bridechamber.com

so does elby:

www.elby-designs.com Knobs.

STS uses Davies 1900h knobs. There are plenty of sources for the real thing, but in the US small bear electronics sells reasonable clones.

http://www.smallbearelec.com/Categories ... 3&total=47

Word on the street is Malekko is about to come out with some clones as well.

Pots.

For the sequencer/programmer boards - the board mounted pots bridechamber sells supposedly work with ken's pcbs and zthee's panels. (someone should confirm this!)

All other pots are panel mounted - so use whatever you want!

Switches.

Mouser Part number:

Switch: 611-8125-241

Cap: 611-752703000

Dress Nut: 611580700201

Led lenses.

Zthee's panels are designed for CLB300s:

http://fi.mouser.com/ProductDetail/VCC/ ... RcadLlU%3d Jacks.

Banana Jacks:

http://search.digikey.com/scripts/DkSea ... me=J150-ND

Mouser 108-0903-001:

http://www.mouser.com/Search/ProductDet ... 108-0903-1 Power.

There are plenty of options for power. Ken Stone sells psu pcbs, also note this sticky:

viewtopic.php?t=1200

For power distribution - Ken Stone makes a nice little board for this. You'll need the following parts for the pcb and cable connectors:

PCB side:

http://www.mouser.com/ProductDetail/Tyc ... 7HMsIjxw==

Cable side:

http://www.mouser.com/ProductDetail/Tyc ... eteA%3d%3d

You will need 18 guage wire for these

and maybe a crimping tool like this:

http://parts.digikey.com/1/parts/357324 ... 804-1.html

For power between boats - I think some folks are using 4-pin XLR connectors - someone else will need to weigh in on that.

Putting it all together.

One place to start is by looking at the pics zthee posted in this thread (scroll down for zthee's post):

viewtopic.php?t=11606&postdays=0&postorder=asc&start=20

Here's an explanation:

zthee wrote:I made a quick sketch on how to mount the PCB.. Pardon my handwriting, so used to writing on the computer, that I almost forgot how to...

This is the way I do it, and the way it's described in the Serge Kit instructions. As Ken said, using the slotted rails and fasteners will NOT provide a solid construction. Since 2 boards support ALL boards. The best way is to use a L or a U shaped aluminum profile and drill holes and fasten the PCBs with screws!

Also, the Serge Kit instructions says not to strap the wires together. But everything should be neatly done with the cables running along the back of the boards and in between the pots/jacks. This isn't hard and with some practice you can make it look neat and nice.

Hinged standoffs are avaiable at Digi-Key

http://search.digikey.com/scripts/DkSea ... me=351K-ND

Wiring Diagrams:

Panel 1:

http://www.thehumancomparator.net/tmp/instructions.jpg

Panel 2: can be derived from ken stone's docs until zthee gives us a drawing for that one. (he's really set the bar too high and there's no turning back!)

Digital Noise

http://www.cgs.synth.net/modules/cgs31v ... noise.html

Gated Comparator

http://www.cgs.synth.net/modules/cgs13v ... rator.html

Pulse divider and Boolean Logic

http://www.cgs.synth.net/modules/cgs36_ ... vider.html

Programmer/Sequencer

http://www.cgs.synth.net/modules/cgs59_prog.html

Panel 3: TBD

here's a pic of the back of a Ken Stone build - maybe he can explain his technique!

viewtopic.php?t=17005&start=420

pics of fluxmonkey's build here - plus some nice rotary switch p/n's!

viewtopic.php?t=4128&postdays=0&postord ... &start=520 Patch cables.

Banana Patch Cables:

http://www.testpath.com/Categories/Bana ... s-1700.htm http://www.testpath.com/Categories/Bana ... g-1835.htm

Mouser:

http://www.mouser.com/Search/Refine.asp ... d=565-B12- http://www.rapidonline.com/Cables-Conne ... -Pole/4mm-

DIY:

Connectors/4mm-Stackable-test-lead-500mm/83063

bulk wire for bananas: mouser# 565-6733-2 for red and 565-6733-0

for black- solderless, stackable bananas ends - mouser# 565-1325-2

There is a lot more that could/should be in this post - but it's a start. Post more info and I can add it!